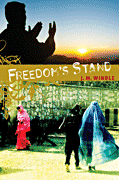 Freedom's Stand
by J.R. Windle
I have to admit that it took me a little while to get into this book. The first chapter was engrossing by then it got a bit confusing for a time. The reason, however, was a good one- I'm not familar with middle eastern names and this author tried to write an authentic book... so, needless to say, the names confused me for a time.
However, soon after that I got lost in the story. There is a former suicide bomber, a special forces vetern, a relief worker... all whose paths cross for one single reason: they are followers of Isa Masih. (Better known to us as, Jesus the Messiah)
The story is fiction but it can serve as a reminder that there are believers in this world who are walking a difficult journey.
And there are people who are facing bitter heartbreaking lives. Like Farah, a sixteen year old who came to believe that love was an illusion, man is untrustworthy and gut-wretching pain are a woman's lot in life.
The most wonderful part of the story though is this: Isa Masih changes lives. He makes all things new. And helps us see that there is purpose in all our tears and pain.
I received this book in exchange for my honest review from Tyndale Blog Network.